Exercises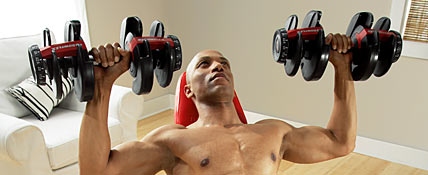 Only Bowflex® SelectTech® Dumbbells Can Give You This Much Variety!
Imagine having the versatility of a Bowflex® SelectTech® free weight workout station in your home. Not only does the 552 dumbbell set replace 15 pairs of free weights, our ergonomically designed stand makes heavy lifting safer and easier (your lower back will thank you). And when you add one of Bowflex®'s adjustable incline/decline workout benches, you can transform any space in your home into a personal fitness center!
See Gym Quality Results
Bowflex® products are designed to give you gym quality workouts in the privacy of your home. You get the results you are looking for - tight abs, firm legs, sculpted arms and a strong chest - but you don't have to pay a gym membership to get the look you want. Plus, there's no need to drive to a club and no need to wait in line for equipment. You can spend as much time as you want on your favorite exercises without anyone asking you to move on.
Check Out All The Exercises You Can Do!
LEG EXERCISES
BACK EXERCISES

Wide squats
Calf raises
Stationary lunges
Stiff-leg dead lift
Reverse lunge
Side lunge

Alternating rows
Wide row
Dead lift

CHEST EXERCISES
ABDOMINAL EXERCISES

Flat chest press
Incline chest press
Flat fly
Incline fly
Decline chest press

Ab crunch
Reverse crunch
Lying trunk rotation
Twisting side crunch
Lying leg raise

ARM EXERCISES
SHOULDER EXERCISES

Standing curls
Concentration curls
Incline bench curls
Scott curls
Overhead triceps extension
Triceps kickback
Lying triceps extension
Hammer curls

Standing shoulder press
Lateral raise
Seated overhead press
Front raise
Rear delt row
Shrugs
Ordinary People. Amazing Results.



Want to know more? Request a
FREE Info Kit today.